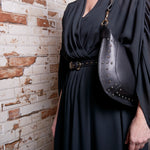 We have re-launched...
Thank you for visiting our new website - whether you own a bell&fox handbag or two, or are visiting us for the first time, we are delighted to welcome you.
The launch of our new website is the perfect excuse to personally tell you a little more about our collections, starting with our New Nappa Leather Collection.
Our NEW Nappa Leather Collection
Our latest collection has been hand crafted from silky premium nappa leather in buttery soft black and the most beautiful rich tan, which will work with all four seasons of your wardrobe. Designed with simple silhouettes, and a smattering of studs to add that little edge.
IVY Chain Cross Body / Clutch in Black Nappa leather
An ever popular silhouette, our cross body bags are an integral part of every collection we design.  'Hands free' for ultimate ease of wear without compromising on style, with straps that can be adjusted to create just the right amount of cross body for you.   Browse our Cross Body Bags 
TABITHA Studded Hobo Crossbody Bag in Tan Nappa